Fly Fishing Camp
Older Scouts and Venture crew
members can catch a memory this summer at Camp Resolute learning fly fishing and fly tying and fishing. Participating Scouts will learn to tie artificial lies, casting techniques for fly rods, and how to identify the right lure colors to use to catch different fish.

Boy Scout participants in the ly Fishing Camp Program can also earn Fly Fishing Merit Badge. Venturers can work on the Fly Fishing Option B for the Ranger Award Fishing Elective. The core of the course will cover the fishing techniques, types of fly lines and when each would be used, how to match a fly rod, line and leader to get a balanced system, casting techniques, and the different knots for fly fishing and tying. Participants will also learn different types of flies, what they imitate, how to tie them, and when to use them.

They will catch trout, bass, and sunfish with their own tied flies. They will also learn how to properly catch and release
trout and other fish, as well as how to clean and cook a fish.

We'll also cover fishing safety and basic first aid - including how to remove a hook that has lodged in you - fishing etiquette,
Leave No Trace, and the Outdoor Code.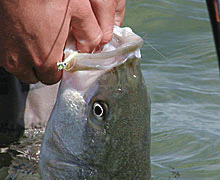 The highlight of the week will be a full day fishing trip to Cape Cod. If ever there was an ideal fly fishing location - this is the place. Miles and miles of hard bottom Caribbean style flats, light colored sand, crystal clear water all summer long with a cold water influence directly off the Atlantic Ocean make this a paradise for some "hot" fly rod action and summer fun.

Fee includes all food and fishing equipment. Participants are welcome to bring their own fly rods and fly fishing equipment, as well as standard fishing gear.

This unique program is limited to 12 Scouts on a first-come, first-served basis. Must be at least 13 years old.
---
Fly Fishing Camp Details
Dates: August 7 - 12, 2011
Cost: $410 ($380 if paid by May 15)